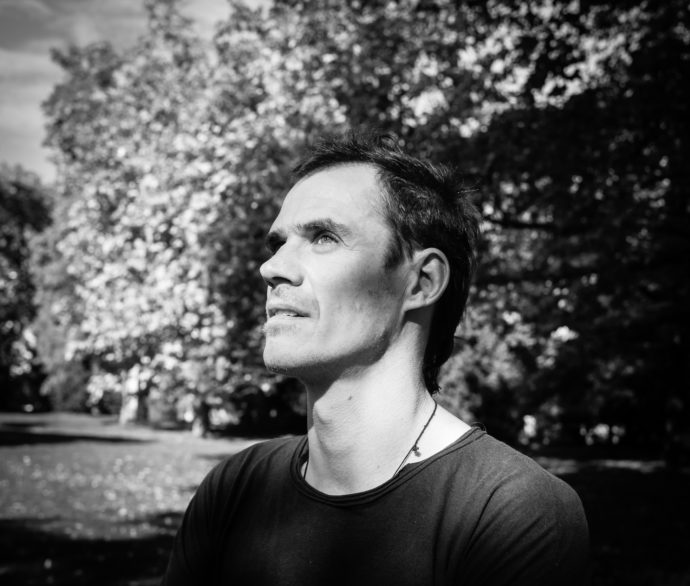 Artiste pluridisciplinaire par nature, François Moncarey a fait de l'articulation entre arts et sciences une ligne esthétique prospective sur la durée.
Sa fascination pour les phénomènes physiques l'a amené à travailler autour d'une série d'installations lumineuses.
Le public, placé au coeur de son travail de recherche, est confronté à une exploration active de dispositifs aux dimensions à la fois tangibles et virtuelles.

En 2010, il crée le CENC (Centre d'Expression Numérique et Corporelle), basé à Genève.Pendant quatre ans, il conçoit des projets transdisciplinaires en collaboration avec des danseurs, plasticiens et musiciens.
Il emploie l'art numérique comme un point de rencontre de ces champs d'expériences.
Il enseigne les arts numériques dans le cadre de festivals en Belgique, en Suisse, en France et aux Etats-Unis.

"L'art numérique est un nouveau mode de langage qui peut coexister avec des formes d'art plus classiques. Dans mon travail, la collaboration avec d'autres disciplines est au coeur du processus créatif. J'utilise les outils numériques comme un liant, ils permettent, par exemple, de relier le son et le corps par la vidéo".

En 2013 il crée le Studio MySquare avec lequel il réalise des installations interactive monumentales pour différents festivals européens comme la Bâtie à Genève, le festival Fusion en Allemagne ou STRP festival aux Pays-Bas

En 2015 il développe le projet ARK, un dôme géodésique de 12m, permettant une projection à 360 ° autour du public.
Le projet prend naissance au CERN avant de s'installer au GIFF(Geneva International Film Festival) et de voyager en Europe et aux Etats-Unis.

——————————————————
Multidisciplinary artist François Moncarey has continuely searched for an estetical ligne combining science and arts. His fascination for physical phenomenons has brought him to work on a series of light installations. The public often plays a crucial role in his work, being invited to explore the both tangible and virtual dimensions of his devices.

In 2010 he forms the CENC (Center for digital expression and body movement) based in Geneva. In the following four years, he developped multiple interdisciplinary projects in collaboration with dancers, plastic artists and musicians. He bridges those different mediums of expression through digital art. 
In those years, he also gave multiple workshops and classes on digital art at the CENC and in a number of festivals through out Belgium, Switzerland, France and the US.
"Digital art is a new way of expression which can coexist with other more classical forms of art. In my work, the interdisciplinary collaboration is the heart of the creation process. I use the digital tools as a binder: they allow, for example, to connect sound and body movement through video."
In 2013 he starts the MySquare Studio, where he creates monumental interactive installations for various European festivals, like La Bâtie, Fusion Festival and STRP Festival.
One of which is ARK : a 12 meter tall geodesic dome, offering a 360 degree mapping around the public. First create in 2015 for the CERN (European Nuclear Research Center), ARK was then moved to the GIFF (Geneva International Film Festival), and is now touring through Europe and the US.